 Saga, the name that represents both Singapore and Sweden, holds a profound significance to me. Growing up in the warm and humid environment of Singapore, one of my favorite pastimes was picking saga seeds and preserving them in bottles to gift to loved ones. These beautiful red seeds, known as 相思豆 (xiang si dou) in Chinese, symbolize love across diverse cultures. Within the restaurant, you will discover a bottle of saga seeds lovingly handpicked by my late grandmother, a cherished memento I brought with me from Singapore. This symbolizes the deep-rooted connection between my culinary journey and my familial traditions.
In Sweden, I rediscovered my childhood passion for wild plants and weeds. As a child, I carried a plant identification book, eager to name the plants that I encountered but as I grew older and embraced city life, I lost touch with nature. Spending time in the nearby Swedish forests reignited my love for the natural world. Exploring the landscapes and foraging for plants reconnected me to cherished memories and deepened my culinary journey.
At Saga, each dish I create tells a unique story. It is a tapestry woven from the fabric of my food memories, the flavors imprinted in my mind, and the lingering fragrances that evoke nostalgia. Having worked in a variety of dining establishments, ranging from vibrant brunch spots to esteemed Michelin-starred kitchens, I always find myself gravitating towards the flavors of my upbringing—the tastes that resonate with my soul. Singapore is abundant with produce all-year-around and after learning to work with seasonal produce, it naturally set me on the path down preserving the best of the seasons through fermentation. I have handcrafted miso, garums and soy sauce with exclusively Swedish ingredients. It is these flavors that I cook for you at Saga, blending my Singaporean heritage with the newfound inspiration I derive from Sweden's natural bounty.
Allow me to take you on a culinary voyage where every dish not only satiates your palate but also tells a tale—a harmonious fusion of memories, flavors, and aromas. Welcome to Saga, where the stories of Singapore and Sweden converge to create an unforgettable dining experience.
Sincerely,
Pearly Teo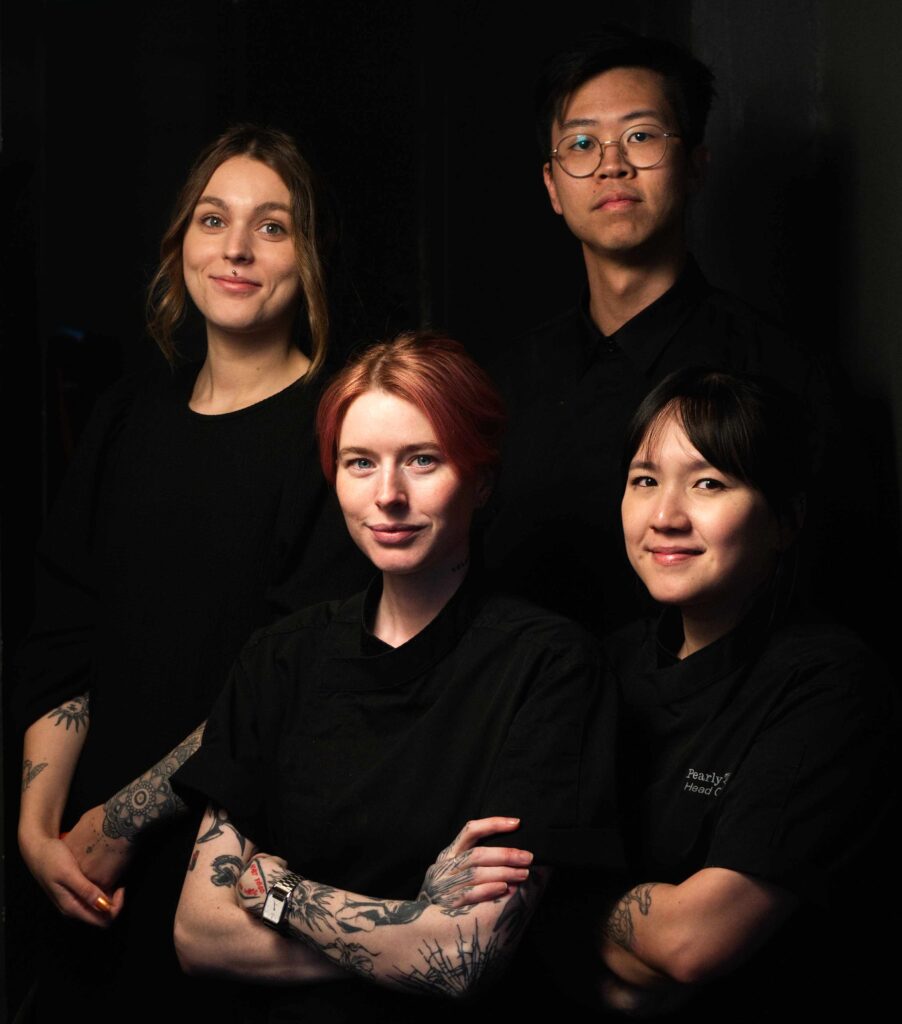 Clockwise starting from top left,
Lovisa Lindén, Front of House Manager
Viktor Chu, Sake Sommelier
Pearly Teo, Head Chef
Olivia Hallberg, Sous Chef
Aschebergsgatan 26, Goteborg 411 33
Wednesday to Saturday
17.00 – 23.00
For press related inquiries, please contact
viktor@restaurantsaga.se